Home

Producer Partners : Peru
ciap
About Us

About Us

Our Products

Our Products

Initiatives

Initiatives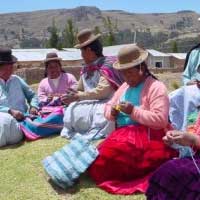 CIAP Intercrafts Peru (Central Inter regional Artisans of Peru ) is a Fair Trade marketing and export arm for the beautiful, culturally and heritage rich products from Peru. Founded in 1992, the aim of CIAP is to improve the living  and working conditions of the small scale artisans and to provide markets, both locally and internationally. 700 artisans are involved within 21 artisan groups.
Benefits for the artisans working with CIAP include access to health care, a rotating loan fund and advances to purchase raw materials. CIAP has also organized a Fair Trade Peruvian travel business and being a member of the W.F.T.O. (World fair Trade Organization), is very active in promoting Fair Trade.
Siham Craftlink purchases nativities, ceramics, musical instruments, jewellery, knitted alpaca accessories and an exciting collection of finger puppets from CIAP, Peru.
CIAP artisans produce a range of products including an array of hand painted ceramics, nativity sets, hand made musical instruments, unique jewellery items and hand knitted alpaca clothing for all ages.
CIAP  improves the living  and working conditions of small scale artisans in Peru by providing local and international markets for their products.  The lives of the artisans are greatly improved through the provision of loans, health care and the ability to purchase the basic raw materials for their handicrafts.